University of Detroit Mercy's School of Engineering & Science and ReBUILDetroit Program will host Otis W. Brawley, M.D., chief medical officer for the American Cancer Society. This special event takes place Friday, Aug. 4, from 11 a.m. to 12 p.m.in the Student Ballroom located in the Student Center on the McNichols Campus.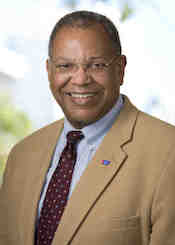 Dr. Brawley is currently responsible for promoting the goals of cancer prevention, early detection, and quality treatment through cancer research and education for the American Cancer Society. He champions efforts to decrease smoking, improve diet, detect cancer at the earliest stage, and provide the critical support cancer patients need. He also guides efforts to enhance and focus the research program, upgrade the Society's advocacy capacity and concentrate community cancer control efforts in areas where they will be most effective. As a global leader in the field of health disparities research, Dr. Brawley is a key leader in the Society's work to eliminate disparities in access to quality cancer care. He currently serves as professor of hematology, oncology, medicine and epidemiology at Emory University.
During his esteemed career, he served as medical director of the Georgia Cancer Center for Excellence at Grady Memorial Hospital in Atlanta and deputy director for cancer control at Winship Cancer Institute at Emory University. He filled a variety of capacities at the National Cancer Institute (NCI), most recently serving as assistant director. He is listed by Castle Connelly as one of America's top doctors for cancer. Among numerous other awards, he was a Georgia Cancer Coalition Scholar and received the Key to St. Bernard Parish for his work in the U.S. Public Health Service in the aftermath of Hurricane Katrina. He is a fellow of the American Society of Clinical Oncology, a Fellow of the American College of Epidemiology and one of less than 1,300 physicians to be named a Master of the American College of Physicians in its more than 100-year history. Dr. Brawley is also a member of the National Academy of Medicine.
Dr. Brawley's presentation at Detroit Mercy is titled "What is Cancer Control" and focuses on ways researchers are working to control the growth of cancer and how we can better combat its spread.
For Dr. Katherine Snyder, Detroit Mercy Interim Dean of Engineering & Science, Brawley's presentation represents an important opportunity for ReBUILDetroit students and the community to learn more about efforts to fight cancer and how a career in the sciences can bring positive impact to all lives.
"Dr. Brawley's insight and research efforts on Cancer provides students a unique perspective on how we can better fight the disease," she said, adding that for Detroit Mercy and its partners, "his presentation on Aug. 4 is historic for the institution and most importantly, gives our community an opportunity to  be proud of a fellow Detroiter making a difference in the front-line fight against Cancer."
Dr. Brawley is a native Detroiter and graduate of University of Detroit Jesuit High School.
To register for the presentation, please visit: tinyurl.com/brawley-aug.
This event is sponsored by the ReBUILDetroit Program at Detroit Mercy. This program offers intensive training for students interested in pursuing academic, research or industry careers in biomedical, behavioral, clinical or social sciences. ReBUILDetroit is a partnership among University of Detroit Mercy, Marygrove College and Wayne State University, supported by a $21.2 million grant from the National Institutes of Health. The consortium is committed to encouraging more undergraduate students from underrepresented or economically disadvantaged backgrounds to pursue careers in biomedical research. To learn more about the consortium, visit rebuildetroit.org.
For more information about this event, please contact John Powell at 313-993-1510 or email at powelljc1@udmercy.edu. Media representatives and reporters who wish to cover this event should contact Gary Lichtman, director of Media Relations, at 313-993-1254 or via email at ichtmgd@udmercy.edu.
###
About the American Cancer Society
The American Cancer Society is a global grassroots force of more than three million volunteers saving lives and fighting for every birthday threatened by every cancer in every community. As the largest voluntary health organization, the Society's efforts have contributed to a 20 percent decline in cancer death rates in the U.S. since 1991, and a 50 percent drop in smoking rates. Thanks in part to our progress nearly 14 million Americans who have had cancer and countless more who have avoided it will celebrate more birthdays this year. We're finding cures as the nation's largest private, not-for-profit investor in cancer research, ensuring people facing cancer have the help they need and continuing the fight for access to quality health care, lifesaving screenings, clean air, and more. For more information, to get help, or to join the fight, call us anytime, day or night, at 1-800-227-2345 or visit www.cancer.org/fight.