Sixteen undergraduate students who discovered and identified new bacteriophage participated in the authentic course-based research project, SEA-PHAGE.  Now, they are published authors.
Their research, "Complete Genome Sequences of Cluster A Mycobacteriophages BobSwaget, Fred313, KADY, Lokk, MyraDee, Stagni, and StepMih" was published in the Genome Announcements, American Society for Microbiology, October 26, 2017.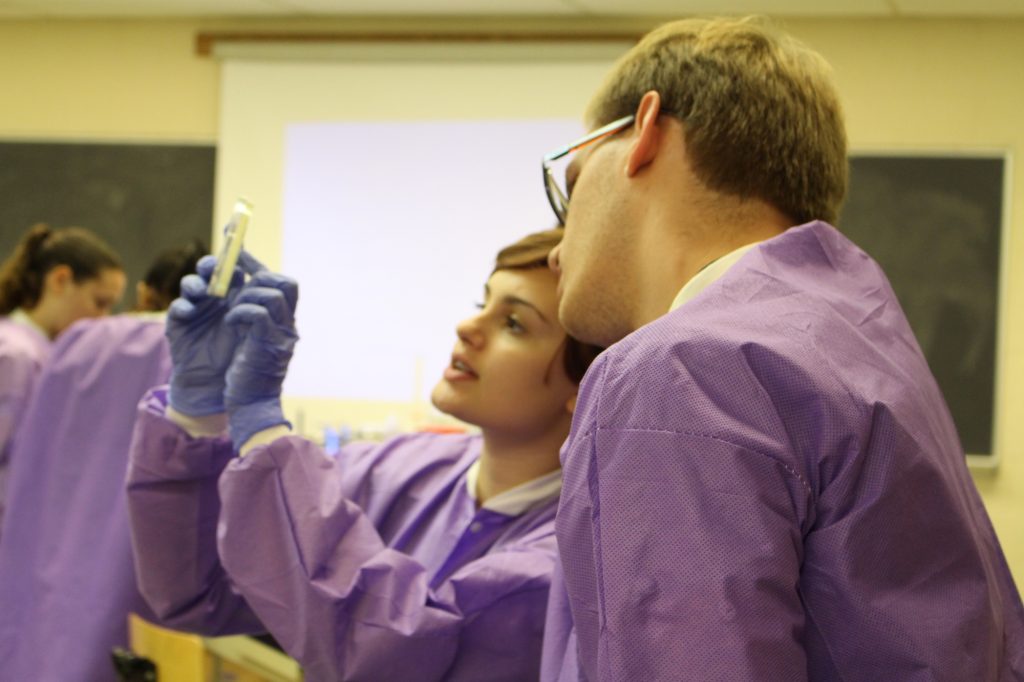 "The experience of taking a scientific question and project all the way from step one through peer reviewed publication is something very rare for an undergraduate researcher," said Dr. Jacob Kagey, associate biology professor.  "The fact that these students accomplished this in a classroom setting is even more rare. I hope that this type of experience sets them apart when they reach the next step in their career."
Students collected soil samples from across the metro Detroit region for their experiment.  They isolated and identified bacteriophage during their freshman year in the new state-of-the-art iNSPIRE laboratory at University of Detroit Mercy.
Kathrine Yacoo, junior in biology and a ReBUILDetroit scholar, identified a phage named KADY from soil samples in her backyard and is grateful to be included as a co-author of the work.
"To have my research published means that I have become a part of the scientific community," said Yacoo.  "This publication is a reminder that science is a collaboration."
Students involved in hands-on research take ownership in their work.
"Since it is authentic hypothesis driven research, the students have a real sense of ownership in the project," said Kagey.  "It was common for students to come to the lab during off hours or following up with the project in the semesters after the class was over. For our ReBUILDetroit scholars, this is such a valuable preparation for their summer research."
One of the hallmarks of the ReBUILDetroit program offers scholars a taste of authentic, hands-on research early in their undergraduate program to encourage them to pursue advanced graduate degrees.
"ReBUILDetroit has given me opportunities I wouldn't have had otherwise. It has given me the opportunity to get research experience in many disciplines," said Yacoo.  "The opportunity to network, obtain research positions, earn awards, and present at many conference. The program has helped me build my professional resume in ways I didn't think were possible this early. Through these opportunities the program has given me confidence to think creatively and answer the unknown."
The publication has 53 co-authors of which there are 16 undergraduates from Detroit Mercy along with 3 faculty co-authors.
The authors include:
Amber Elinsky
Payal Patel
John Sherwood
Tiffany Tieu Ngo
Kathrine Yacoo (ReBUILDetroit scholar)
Jasmina Cunmulaj (ReBUILDetroit scholar)
Emily Gorkiewicz (ReBUILDetroit scholar)
Christopher Harness (ReBUILDetroit scholar)
Anthony Huffman
Christina Jones (ReBUILDetroit scholar)
Anna Julien (ReBUILDetroit scholar)
Danielle Maxwell
Madeleine Reardon (ReBUILDetroit scholar)
Royce Swasey (ReBUILDetroit scholar)
Victoria Torres (ReBUILDetroit scholar)
Tamia Waller (ReBUILDetroit scholar)
Stephanie B. Conant
Jacob D. Kagey
Joshua Thomson