The 2019 Annual Biomedical Research Conference for Minority Students (ABRCMS) was held November 13-16 in Anaheim, California. This was the 19th iteration of the conference and its purpose is to increase representation of underrepresented minorities in science, technology, engineering and mathematics. During the four-day conference, students that attend have the opportunity to present their academic research, enhance professional development skills, explore graduate schools, and network with professionals within their respective fields. Nearly 3,000 students from over 350 colleges and universities participate in poster and oral presentations in 12 STEM disciplines. All student presentations are judged and those receiving the highest scores in each scientific discipline are given an award during the closing banquet.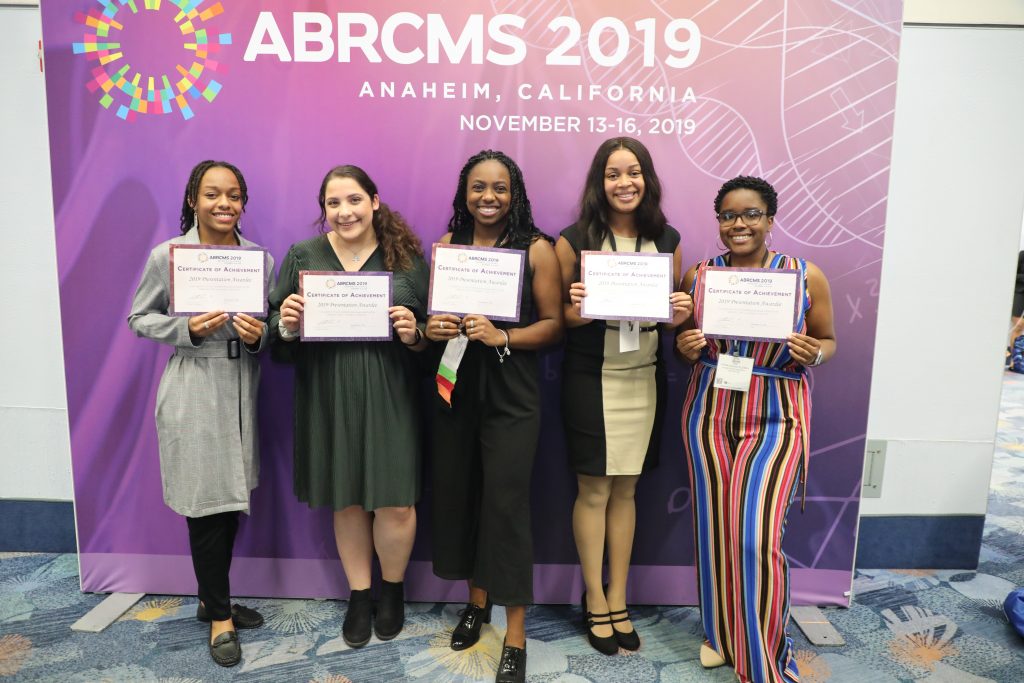 ReBUILDetroit Scholars, Amber Abram (University of Detroit Mercy), Sara Elhasan (Wayne State University),  Michaila Paulateer (Wayne State University) Tyiesha Head (University of Detroit Mercy) and Sydni Alexis Elebra (Wayne State University) each earned presentation awards in their respective areas.
Click here for full list of awardees
https://www.abrcms.org/images/2019/ABRCMS_2019_Presentation_Awardees.pdf
The ReBUILDetroit program provides an early start to structured research, science communication and professional development. Research faculty and program directors play an essential role in mentoring students and learning strategies for facilitating student success. Congratulations to all of the scholars that presented their research at the conference.