University of Detroit Mercy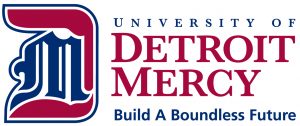 University of Detroit Mercy (Detroit Mercy) is Michigan's largest, private Catholic University with more than 100 academic majors and programs. Sponsored by the Society of Jesus (the Jesuits) and the Sisters of Mercy, the University has three campuses located in downtown and northwest Detroit.
Detroit Mercy is one of 28 Jesuit colleges and universities and the largest of 17 Mercy institutions of higher education in the United States. The Wall Street Journal's 2018 Times Higher Education college ranked 188 out of 1,054 universities in the U.S. udmercy.edu
Detroit Mercy principal investigator:
Dr. Katherine Snyder
Dean of the College of Engineering & Science
Wayne State University

Wayne State University (WSU) is a premier urban research institution offering more than 370 academic programs through 13 schools and colleges to nearly 28,000 students. Through its multidisciplinary approach to research and education, and its ongoing collaboration with government, industry and other institutions, the university seeks to enhance economic growth and improve the quality of life in the city of Detroit, state of Michigan and throughout the world. wayne.edu
WSU principal investigator:
Dr. Ambika Mathur
Dean of the Graduate School
Approximately 150 dedicated faculty members across the institutions will participate in various aspects of the ReBUILDetroit Project. Student cohorts of more than 50 underrepresented students will serve as trainees per year.
The consortium institutions collectively enroll a student body of 47,300 undergraduates, 51.3 percent of whom are from underrepresented minority groups and more than 50 percent are Pell-Grant eligible.