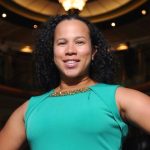 Farron is a higher education diversity, equity and inclusion specialist focused on developing talent within the biomedical workforce. Farron develops, implements and refines programmatic and institutional innovations that recruit and retain students into biomedically relevant degree programs utilizing evidence-based approaches. She is dedicated to transforming institutional culture in order to increase and sustain diversity within the biomedical workforce.
As Director of the Research Enrichment Core, Farron works closely with colleagues from University of Detroit Mercy and Wayne State University. Together, they developed and implemented a research curriculum to prepare early-stage undergraduate students to participate in mentored research. They also focus on increasing institutional capacity to support undergraduate research for students from diverse backgrounds. I joined ReBUILDetroit in 2015 as the Faculty Coordinator.
Farron earned her B.S in Chemistry from Spelman College and  Ph.D. in Pathology from New York University. Prior to joining ReBUILDetroit she was a Post-doctoral Scholar in Nutritional Science at Washington University in St. Louis.