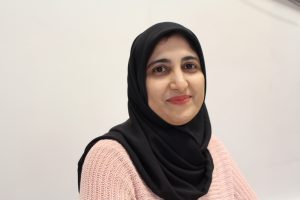 Nadia Saadat has longstanding commitment to academia. During her high school and college years, she received the President Talent Award, a prestigious scholarship awarded to only 50 students in her country. She earned her Medicine and Surgery degree (MBBS) from Dow Medical College Karachi, Pakistan. She continued her education and received her MS and PhD degrees in Nutrition and Cancer Biology from Wayne State University, Detroit, Michigan. She received the Graduate Professional Scholarship during her Masters program, and was awarded the Parent Family Endowed Fellowship and Golden Key Research Grant during her Ph.D. research. As a Part Time Faculty and Graduate Teaching Assistant at Wayne State University, she taught undergraduate and graduate level courses. As a Postdoctoral researcher, she worked as a lead researcher and trained Ph.D., Masters, and undergraduate students. She is also serving as the Chair of the Wayne State University Postdoctoral Association (WSU-PDA).
Nadia is interested in investigating the molecular mechanisms of chronic diseases and bio-marker discovery for early diagnosis. In her current research projects, she is using an integrated analysis of Metabolomics and Transcriptomics/Functional Genomics to investigate the metabolic and gene pathways to identify key players of pathogenesis and their effects on metabolism.
Nadia has a clinical background as a physician and she loves working with people to increase awareness about health. She is an active volunteer in increasing the awareness of nutrition, health, and management of chronic diseases in the community through public seminar presentations at the Annual Sudden Cardiac Death Prevention Seminar series for 8 years. She is also organizing free of cost health screenings and body composition analyses using bioelectric impedance testing alongside consultations with physicians and dietitians for community women.
How does your research fit in with the ReBUILDetroit program and the biomedical field?
The comprehensive Omic approaches have the potential of identifying underlying patterns in large populations to study health disparities. Screening large data sets using multivariate data analysis tools and correlating genomics, transcriptomics, and proteomics data with metabolomics data can provide a complete snapshot of the disease processes and also for intervention studies.
I am confident that I will be able to contribute successfully to the goals and mission of the REBUILD Detroit program, while also developing the teaching & research skill needed to be successful as an independent researcher and educator.
What is the best advice that your research mentor gave you?
My research mentor encouraged me to be independent in making decisions and choosing the direction of my research based on screening Omic approaches to identify true biomarkers.
As a mentor, what advice would you give to ReBUILDetroit scholars?
As a mentor to ReBUILDetroit Scholars, I feel that being involved in research and discovering solutions to the problems in the community, is a significant path towards becoming productive community members and leaders, by setting examples to help others succeed.