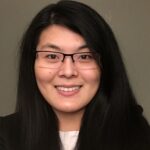 Lan Ma joined the ReBUILDetroit Team in January 2018. She is responsible for producing complex reports, statistical analysis and data visualization based on multiple data sources to serve the reporting and improvement needs of the ReBUILDetroit program.
Lan is a SAS Certified Advanced Programmer. Prior to her role as a BUILD data analyst, Lan has worked at Morehouse College as an institutional research analyst and University of Houston Measurement and Evaluation Center as a research assistant.
Lan earned a Bachelor's Degree in Finance from Huaqiao University, a Master's degree in Economics from the University of Texas at Arlington, Master's degrees in Economics and Educational Psychology from the University of Houston, and a Master's degree in Business Analytics Finance Concentration from the University of Michigan-Dearborn.