More than a third of the ReBUILDetroit scholars at University of Detroit Mercy were recognized in three Colleges at Detroit Mercy's Honors Convocation for the academic achievements this past weekend.
College of Health Professions / McAuley School of Nursing
ReBUILDetroit scholar, Anthony Croft was awarded the Martina Kuechle Nursing Scholarship Award.
This scholarship is awarded to an individual in the traditional, pre-licensure nursing program who demonstrates a dedication to the nursing profession, participates in extracurricular activities, collaborates with a wide variety of individuals, maintains good academic standing and goes above and beyond what is expected.
Vanessa Lee was recognized for her scholastic achievement for a cumulative GPA between 3.75 and 4.0.
College of Liberal Arts & Education
Da'Jonae Foster and Jamillah Douthet received the Dean's Award in the College of Liberal Arts & Education for achieving a grade point average above 3.5.
College of Engineering & Science
Seven scholars received the College of Engineering & Science's highest award, the Scholar Key Award.
This award is given to freshmen with a 4.0 grade point average; sophomores with 3.9 or above and juniors with a 3.8 or above.
This year's recipients included:
Jada Nelson, freshman
Sarah Buhay, sophomore
Ali Issa, sophomore
Diana L. McMahon, sophomore
Christina Jones, junior
Yuyi Li, junior
Nathaniel Nunez, junior
Kathrine Yacoo, junior
Three ReBUILDetroit scholars were awarded the Scholar Certificate Award for their outstanding academic achievement of a grade point average between 3.75 and 3.99.
Angelina Antonyan
Nour El Yaman
Wayman Jones
Electrical engineering student and first year ReBUILDetroit scholar, Yuyi Li, was presented the Eta Kappa Nu plaque.
This plaque is presented to an outstanding sophomore in electrical engineering who has proven himself or herself through high scholastic achievement and personal attributes as worthy of consideration for future membership in Eta Kappa Nu.
Congratulations to all ReBUILDetroit scholars on your outstanding academic achievements.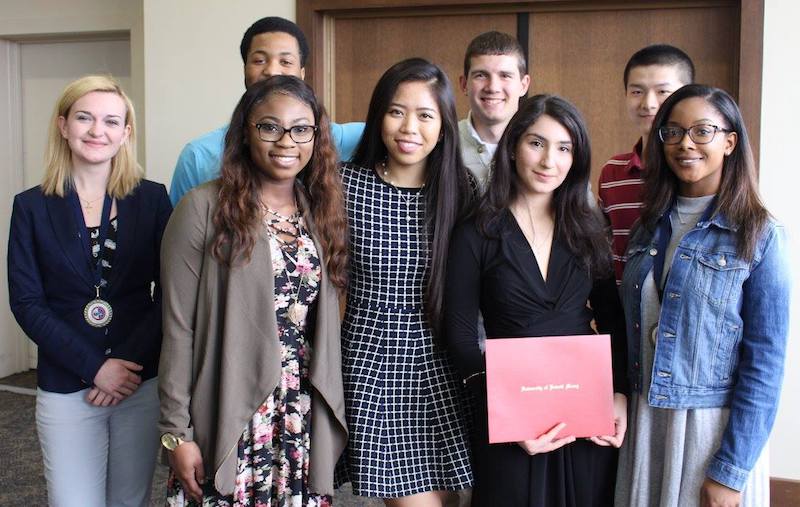 View photos of the 2017 Honors Convocation.