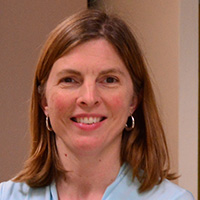 The ReBUILDetroit welcomes Dr. Erin Dolan as an external member of the ReBUILDetroit Steering Committee.
Dolan is a Professor of Biochemistry & Molecular Biology and Georgia Athletic Association Professor of Innovative Science Education at the University of Georgia.
As a graduate student in Neuroscience at University of California San Francisco, she volunteered extensively in K-12 schools, which prompted her to pursue a career in biology education.
She teaches introductory biology and biochemistry, and her research group studies scalable ways of engaging students in science research and mentoring of undergraduate researchers in the life sciences.
In 2014-2016, she served as founding Executive Director of the Texas Institute for Discovery Education in Sciences (TIDES), the teaching innovation initiative in the College of Natural Sciences at University of Texas Austin.
She has designed and led a wide range of professional development on active learning and mentoring, including intensive sessions on developing course-based undergraduate research experiences (CUREs).
Dolan is principal investigator or co-investigator on more than $10 million in grants, including one for CUREnet (http://curenet.cns.utexas.edu/), a network of people and programs integrating research experiences into undergraduate courses. She is also Editor-in-Chief of the leading biology education journal, CBE – Life Sciences Education (http://www.lifescied.org/).
Welcome Dr. Dolan to ReBUILDetroit!