Relicious Eboh, a ReBUILDetroit scholar, reflects on her recent experience presenting at the MedEq Research Conference in Detroit last month.
Eboh is a sophomore at University of Detroit Mercy and presented her poster, "Refining an Intervention to Increase Physical Activity in Pregnant Black Women."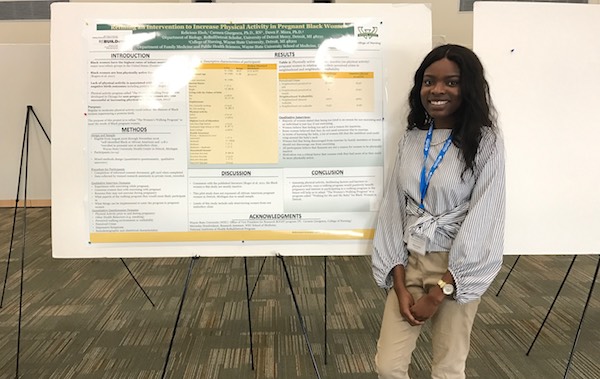 For nearly a year, Eboh has been working with her research mentor Dr. Dawn Misra from Wayne State University.
"It is an honor to call her my research mentor," said Eboh.
Misra mentors other ReBUILDetroit scholars and prepares them well for conferences like this.
"Presenting at a conference prepares me for the future," says Eboh. "I am able to share my knowledge of health disparities to other people in a way they can understand my work.  Attending a conference is a great way to network since I met a lot of people from different walks of life with different levels of education."
The ReBUILDetroit program matches scholars with faculty mentors to provide an intense 8-week summer research experience following their freshman year.
"ReBUILDetroit supports me in achieving my goals by pairing me with mentors who will help me become a better researcher, student and professional," said Eboh.
The ReBUILDetroit program provides many opportunities for scholars to network with professionals and prepare for their future.
"Once I graduate from Detroit Mercy, I hope to go on to obtain an M.D./M.P.H and work in an urban hospital to help combat health disparities," said Eboh.  "My research background will definitely help me achieve those goals."