University of Detroit Mercy Chemistry sophomore and ReBUILDetroit scholar, Kathrine Yacoo and her lab partner, Danielle Maxwell, won the "Best Undergraduate Poster Presentation Award" at the Association of Analytical Chemists (ANACHEMS) annual symposium earlier this month.
"This was the first conference I presented a poster on our research that specifically highlights the analytical chemistry aspect," said Yacoo.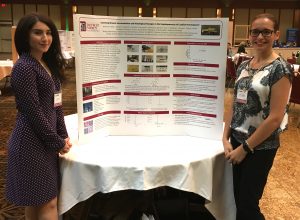 In Yacoo's freshman year, she gained valuable experience presenting her research from the freshman-level SEA-PHAGE course at Detroit Mercy's annual Celebration of Scholarly Activity and her summer research at ReBUILDetroit's Research Day held at the Charles H. Wright Museum for African-American History in September.
The focus of the ReBUILDetroit NIH-funded grant prepares undergraduates to seek advanced degrees in the biomedical field.
Scholars are actively involved in an authentic research project during their freshman year and paired with a faculty research mentor in the following summer.
"It is very important to present my research at conferences," said Yacoo. "I get to learn about advances in science and more importantly, get to contribute to these advances. Presenting is my way of advocating my research."
Faculty members at Detroit Mercy place great value on undergraduate research opportunities.
"Undergraduate students working on the project have participated in a collaboration between biology, biochemistry and analytical chemistry professors," said Dr. Kendra Evans, associate professor of Chemistry and Biochemistry at Detroit Mercy.  "As such, the students have been exposed to a diverse array of techniques and principles, including tissue treatment and extraction methods, as well as advanced instrumental analysis techniques such as liquid chromatography-mass spectrometry.  They have had the opportunity to apply concepts and practice the critical thinking characteristic of biomedical research.  The project, which focuses on the investigation of pesticide accumulation in crayfish tissue, is relevant to environmental chemistry and toxicology studies. The students' experiences are preparing them for careers in biomedical research."
This aligns with Yacoo's career goals.
"After I complete my undergraduate degree I plan on going to an osteopathic medical school to pursue a career in obstetrics and gynecology," said Yacoo. "Based on my commitment to research I plan to continue with clinical research during and after medical school."
The annual ANACHEM symposium and exhibition features a plenary lecture, sessions and monetary awards for best student papers and posters.
Congratulations Kathrine on your accomplishment!
See photographs from the symposium.