Postdoctorial teaching fellow, Irfana Muqbil, shares her experience as a Graduate Learning Community Advisor (GLCA) in the ReBUILDetroit program.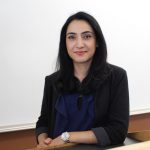 The ReBUILDetroit postdoctoral teaching fellowship is like a career dream come true thanks to my GLCA experience earlier this year.  The teaching experience was extremely valuable and so were my interactions with the ReBUILDetroit faculty and staff.
Throughout the GLCA program, I met monthly with Dr. Otoo and Dr. Andreoli. These meetings helped me improve both professionally and personally. Towards the end of the semester, I created a e-portfolio which included everything necessary for a teaching position at an undergraduate institute. Both Dr. Otoo and Dr. Andreoli were easy to reach and ready to lend their help. I also worked with Dr. Andreoli during the Summer Enrichment Program (SEP) which was an equally rewarding experience.
As for teaching. I worked with Dr. Kathrine Lanigan at University of Detroit Mercy. She provided me every opportunity to learn and improve my teaching skills. She appreciated my effort, no matter how small, that I put in the Research Coordination Network (RCN) class. She was always there to encourage and guide me in more ways than I could have asked. I found a mentor and a friend for life.
Other faculty members provided advice and helpful suggestions to advance my career.  I am thankful to Dr. Jacob Kagey and Dr. Stephanie Conant for their sound advice and the opportunity to teach during the SEP.
When I started my GLCA appointment, I had almost no teaching experience.  While I still have room for a lot of improvement, this experience helped me understand various pedagogical techniques and enjoy the delight of shaping the future direction of many talented students.
I will take this spirit with me wherever this fellowship leads. I am excited to learn and work with all the amazing faculty while achieving the goals of the ReBUILDetroit program through research, teaching and mentoring young students.
I am fortunate to be a part of ReBUILDetroit and learn from the experiences of their faculty and staff.
ReBUILDetroit is currently seeking GLCA's to commence in December, 2017.  For more information, please see: Graduate Learning Community Advisors.