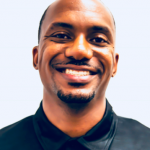 Tommie L. Smith is a lifelong Detroiter committed to improving the generation behind him.
A graduate of the University of Detroit Mercy, Tommie values higher education and has dedicated his life to mentoring students. Entering his 3rd year with the ReBUILDetroit Program, Tommie has played an integral in preparing numerous first-generation students for the rigor of college.
Tommie is also the former DAPCEP Assistant Site Director at Detroit Mercy and is also an Associate Head Coach at Detroit Fredrick Douglass Academy.