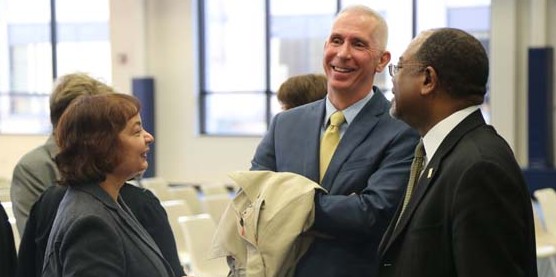 The academic renaissance of Detroit is fueled by institutions of higher learning that are well positioned to lead the rebuilding of Detroit academically.
University of Detroit Mercy trains both undergraduate and graduate students and has the one of the nation's premier Dental schools.
Wayne State University is Detroit's major research university, home to the largest single-campus medical school in the United States.
These three institutions are within a 5-mile radius to each other in the center of urban Detroit.
Community Advisory Committee
ReBUILDetroit is vital to Detroit and Southeast Michigan.  A Community Advisory Committee advises on the relevance and impact of training programs and its outcomes on the region.
The Community Advisory Committee is formed with distinguished leaders from the region's educational, business, industry and foundational enterprises.
The members of the Committee include:
Dr. Veronica Conforme, Chancellor
Education Achievement Authority of Michigan
Mr. Jason D. Lee, Executive Director
Detroit Area Pre-College Engineering Program
Ms. JoAnn Chavez, VP/Chief Tax Officer
DTE Energy
Mr. Floyd Allen, Attorney
The Allen Law Group, PC
Ms. Angela G. Reyes, MPH, Executive Director
Detroit Hispanic Development Corp.
Dr. Stephen Rapundalo, PhD, President and CEO
MichBio
Ms. Mary Kramer, Publisher
Crain's Detroit Business
Mr. Monty Fakhouri, Business Manager & Minority Outreach Coordinator
Beaumont Health System
Mr. Odis Jones, Chief Executive Officer
Public Lighting Authority of Detroit
Dr. Tonya N. Matthews, President & CEO
Michigan Science Center
Mr. Bankole Thompson, Senior Editor
Michigan Chronicle